What Is The Poshmark Algorithm?
Social media has become a staple in the online universe. Engaging with other people across the world has become our way to socialize, communicate, share, shop, date, game, learn and more! So, in 2011 when Poshmark decided to launch its reseller platform that depends solely on engagement, it just made sense. Requiring resellers to engage on the platform with other resellers, to help each other succeed, was kinda genius. We SHOULD be helping each other succeed! And learning from each other on what works and what doesn't. But, in order to stay relevant on the platform and appear high in rankings to buyers (and sellers), you have to engage in a certain way, which is determined by the Poshmark Algorithm.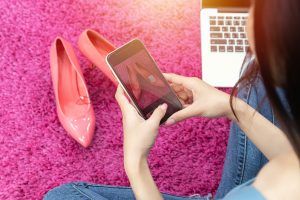 Its kind of a game, really, and only takes about 30 minutes per day to accomplish what is needed to satisfy the Poshmark Algorithm. We get way more in-depth on how to engage in our course Jumpstart the Algorithm. But here are a few tips to get you started.
5 Poshmark Algorithm Tips To Help You Succeed
Follow at least 100 people per day. Start with Posh Ambassadors, then people in your city, from your college and newbies.

Share. Share other closets, items you like and most importantly…share your OWN items.
Engage. Chat with other poshers. Welcome newbies, offer to help out.
List. You need to continue to list items regularly. Try for 5 new items per week. You can also relist your items as well.
Participate in parties. Everyday there is a Posh Party that you can actively participate in by sharing, following, and commenting. And maybe the owner of the party will highlight an item from your closet!
The more you engage on Poshmark, the more you will stay relevant to the Poshmark Algorithm. You will also gain higher rankings, become and stay visible to your followers AND you are helping others be a successful reseller as well. We need to focus more on helping each other. Women need other women to support them, its how we thrive. And now more than ever, working from home needs all the support we can get. So we can stay home and be our own boss!