Learn to Start Your Own Online Shopify Store in 2022
We have all dreamed of being our boss. Having your own business means a flexible schedule, independence, and financial stability. Let's dive into how to start your own Shopify online store!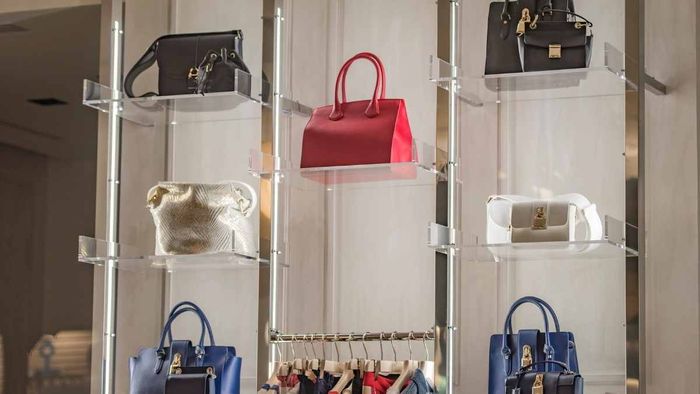 The easiest way for your products to reach their audience is by having an e-commerce store. Here, you will learn how to start your own Shopify store in 2022.
This makes it easier for potential consumers to find you, see your products, learn about you and complete a transaction online.
LEARN HOW TO SET UP A SHOPIFY SHOP IN 2022 AND MAKE MONEY WITH YOUR OWN ONLINE FASHION STORE.
Why start your own Shopify store?
The easiest way in 2022 for your products to reach their audience, is by having an online store.
Shopify is an eCommerce platform that many experts recommend for creating a flexible yet scalable online store. The platform offers a wide variety of options for customization, from templates to menus and checkout experiences. Shopify has made it easy for anybody to create their online store easily.
On this blog, we will be covering how to create your own Shopify shop to resell fashion.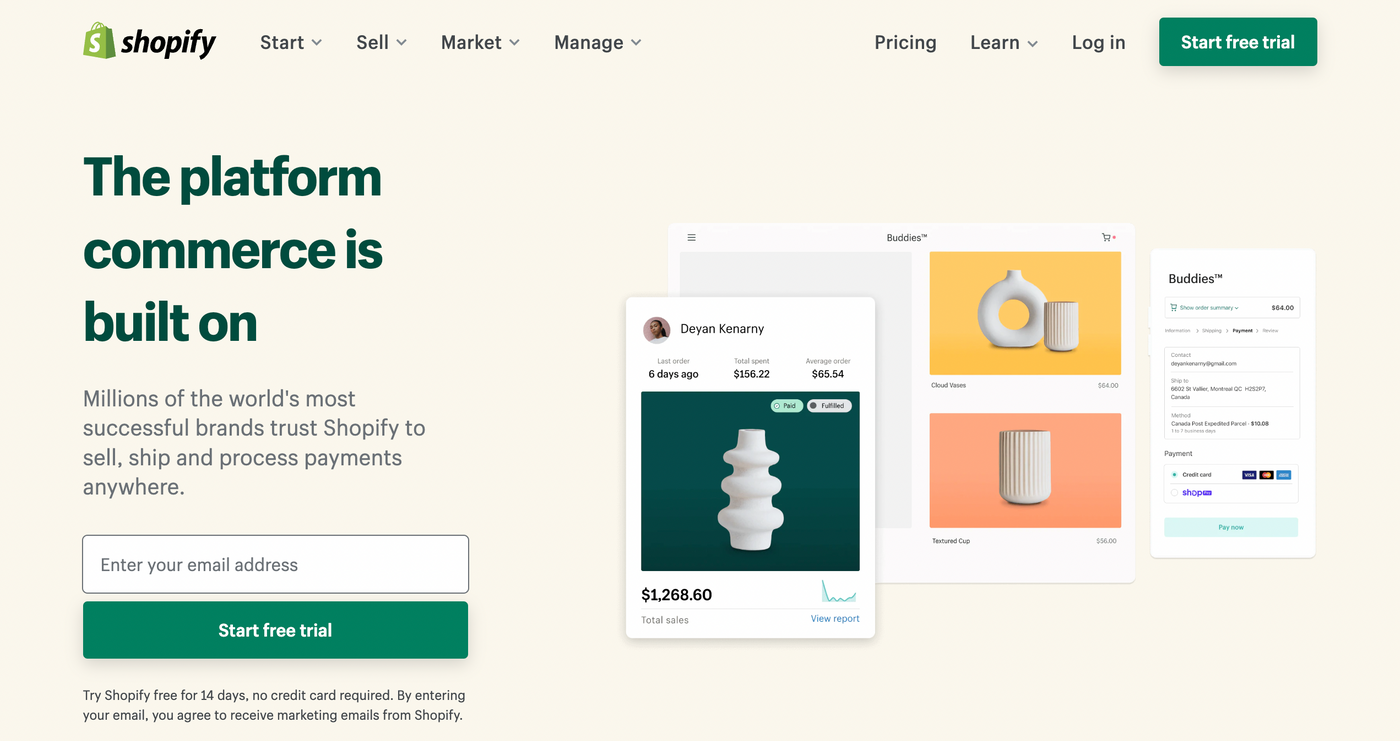 How to Create a Shopify Store
Step 1. Creating a Shopify Store
Starting an online resell fashion store on Shopify is easy.
The first step when creating the store is picking a business name. But, even though this is essential, don't spend too much time on it. Overthinking your business name and spending weeks, or even months is not a smart business move.
You can always go back and change the same of the store. Just make sure to select something that is original, easy to find, and remember.
A useful tool for coming up with an e-commerce store name is the Shopify Business Name Generator.
You can add a keyword or two that you'd like to have in your e-commerce store name, and it will provide you with recommendations. Then you can simply scroll through the options and select your desired business name and launch your business. Shopify Business Name Generator is free and easy to use.
Come up with a list of 10-15 brand name ideas. Research the names, verify if there are other stores sharing that name and, make sure it is not trademarked or registered under another brand.
Make sure the name you end up choosing has an available .com domain address. You may need to add "shop" or "store" to the name in order to be able to have an original domain.
Dot com domains rank better in the search engines.
You can use Shopify's Domain Name Registration tool to search for available .com domains or register your domain through another service like Godaddy to search, select and register a domain.
You can create your e-commerce store in just a few clicks, and all of the server setup and maintenance is taken care of for you.
Go to Shopify.com, and click 'start your free trial. Then, enter your store name, and create your shop.
That is the first and easiest step in learning how to start your own Shopify Shop in 2022.
Step 2. Pick Your Settings
You'll need to pick certain settings before your Shopify store works properly.
In the bottom left corner of your Shopify, click the 'Settings' button with the gear icon.
First, go to 'Store Details' and fill out all your store contact information. Then, go down and select a plan for your store. Shopify includes a 14-day free trial for new stores, so you may change the plan later on and keep the basic plan for now.
Now, under "User Permissions" you can add staff members and assign permissions if the selected Shopify plan allows it.
• Set Up Payments
It is highly recommended to use Shopify Payments for processing payments.
Shopify Payments allows you to accept various forms of payments, including credit cards, Google Pay, Shopify Pay, and more. You can sign up for Shopify Payments by providing Shopify with your business information, personal details, product information, and bank account number. It is easy to use and set up.
You can also choose to accept payments via PayPal. Add your PayPal email address under Shopify Settings > Payments Section. Later, you can change, remove, or add additional payment options. It is always recommended to offer as many payment options as possible.
• Set Up Checkout
Shopify also lets you see and modify your checkout settings. For new store owners, I recommend keeping customer accounts as optional so that customers can also check out as guests.
Additionally, consider the following choices:
• Abandoned checkouts: Shopify allows you to set up automatic reminder emails for those who reach your checkout but do not complete their purchase for any reason. Once done, Shopify will send an email 10 hours after someone abandons your checkout, when your site is still fresh in their mind.
• Customer contact: Let customers decide how they want to be reached after placing an order. Options include being contacted by text messages or email. It's better to keep this to email only if you want to focus on creating an email list.
• Email marketing: You can provide customers with an option to subscribe during the checkout process. Later, you can reach out to them with new products or discount deals to drive more sales.
• Generate Required Policies
Shopify offers handy tools for generating terms and conditions, standard privacy, and return policies. You can access policies from Shopify by going to Settings > Legal > scroll down to Refund > Privacy > Terms of Service > Shipping statements section to generate each policy sample.
• Add Free Shipping Rate
You can decide on what rates to charge or offer free shipping on your products.
You can set this as default from your Shopify account settings. Just remember, you will need to factor this into the price of your items if you want to earn a profit after absorbing the shipping costs.
Go to Shopify Settings > Shipping and delete all shipping zones that are "Domestic". Next, click the "Add shipping zone." If you're offering free shipping, just type that in and then choose "Rest of world" if you're ok with shipping to other countries. Now go to "Add rate" under the "Price based rates" section and select the 'Free shipping rate.'
Don't forget to click "Save".
You can also select shipping carriers and specific rates available for your products.
• Set up Taxes
As an e-commerce store, you're required to collect a sales tax from your customers. The good thing about Shopify is that it auto-calculates taxes based on the ongoing sales tax rates around the word according to the buyer's address.
It's always a good idea to consult with a tax professional to ensure you're charging the right amount of tax. They vary by state, country and sometimes even products.
In Shopify, go to Settings > Taxes to set up your regions. Then you can override the defaults if specific conditions apply.
• Create an Online Store
Shopify allows you to sell your products across multiple channels like Online Store, Facebook Store, Brick & Mortar store, etc.
Right now, we want to create an Online Store. Go to Shopify Settings > Sales Channels and add Online Store as your sales channel if it hasn't already been added automatically.
Step 3. Add Products and Content
Before you import products into your store, customize them with your product names, descriptions, the right photos, and other details like assigning them to collections or adding tags. It is always recommended to customize fields before importing products.
In addition to your products, the content that you use to customize your products is crucial. This is an area that should get a lot of love from you in the future, as you test and tweak your store.
Remember, people can't touch or hold your products. So the only way to help them get a sense of how amazing they are is to write good content that sparks their interest.
We're going to look at some tips for customizing these things:
Description
Images
About Us page
Pricing and Inventory
Categories
Product Description
Create a product description that provides customers with enough information to make them want to buy your products immediately.
Ask yourself:
What problems do the customers have that my product solves?
What do customers gain from using my product?
What separates my products from others on the market?
Your brief description needs to answer these questions in a easy way to read.
Keeping it casual and positive can also help your product descriptions stand out. Also, try breaking information into short, digestible chunks. Headings, bullet points, and visuals are a great help for making this happen.
Product Images
While I strongly recommend taking product photos of your own, it's not 100 percent necessary if you're dropshipping. That's because dropshipping suppliers often include decent product photos in their listings. I also recommend checking out stock photography websites like Shopify's Burst if you're selling a popular product. And if you're keen to take your own images, check out our product photography course before you proceed any further.
About Us
This page on your online store needs to look unique, but this will take quite a bit of time to create. In the meantime, copy and paste one of the pre-generated 'About Us' pages from the list below and edit it to suit your store later.
When you write an About Us page in the future, make it personal. Tell a story about why you started the brand. Show pictures of yourself to show that there's a human behind your eCommerce business. My favorite example of a company that has created a fantastic About Us page is Luxy Hair.
Product Pricing & Inventory
Shopify's pricing section has three fields: price, compare at price, and cost per item. Use the second field if you want to inform customers that the product is on sale.
You can also tell Shopify that you want to track the inventory of your products.
To do this, click the 'Track quantity' checkbox and define the number of items available to buy. So if you sell 30 units of a product, Shopify will display "'out of stock"' and stop people from placing orders until your suppliers refill the stock.
Create Collections
Product categories are called collections on the Shopify website. If you're selling women's jewelry, your collections will be (from top to bottom): Earrings, Rings, Necklaces, Watches, Bracelets, etc.
Just go to Products > Collections > Add New Collection, enter your collection name, and select your collection conditions.
Setting up collections offers a variety of benefits: including:
Helping different shoppers quickly navigate your catalog by linking to collections of products on your homepage or in your navigation menu.
Curating products that you want to offer on sale. It's possible to create discounts on certain collections of products.
Step 4. Create Your Layout
The design aspect of creating an e-commerce store is very important.
How you present your e-commerce business helps build trust with customers. Thankfully, Shopify automatically assigns a default theme to your e-commerce store, or you can select a different template and customize it.
All themes contain sections that you can edit, rearrange, temporarily hide, or remove. You can experiment with different layouts until you're satisfied with the outlook of your store.
Don't buy a premium theme until you've generated enough sales for it to be paid for through your e-commerce business. There's no need to make big purchases in the beginning.
Create the Main Menu/Navigation
The main menu shows up on every page of your website. It's usually displayed as items across the header, or as a list of items in the sidebar. People will probably use your main menu to find information about your store. To set up your main menu, open your Shopify admin > Navigation section > select edit 'Main Menu' card and list all your collections there.
Whatever items you put in the main menu can have multiple dropdowns to improve navigation and ease browsing.
Upload Main Banner
You can create a cool-looking banner quickly in Canva.com.
Select banner dimensions (1200x360px), upload an image of one of your products, choose your colors, insert a few lines of text, add a "Buy Now" button, and you're finished.
You can upload you own logo, images or use free stock photos from Canva's stock gallery.
You can now insert this banner into your e-commerce store by going to Online Store > Themes > Customize Theme > edit Homepage Slideshow.
Now your online store is ready for some sales. So go ahead and crush it.