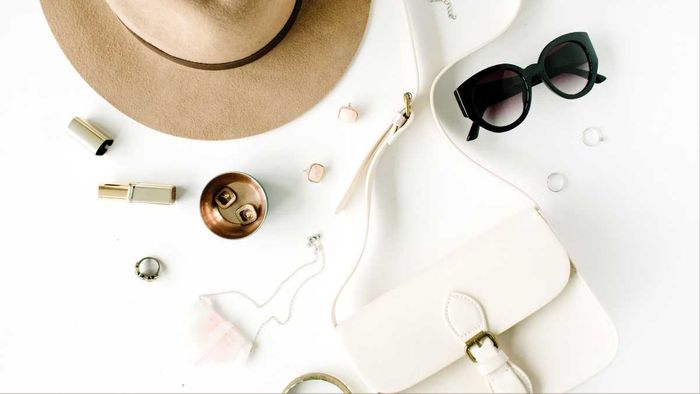 As a veteran reseller of 25 years, I have done my fair share of missing minor and major flaws in some of the fabulous thrift items I find. It is such a bummer. That is why DIY for resellers is so important when shopping in thrift stores.
Of course, the more familiar I got
with thrifting, the better I got at inspecting my potential products so it happened less frequently.
There is that rare item now and again that is clearly flawed but has the POTENTIAL to be great!
Something that if it weren't nicked or damaged or missing a strap, button, or leather paint COULD be worth a fortune.
Vintage items are a HOT commodity in the resale world right now so sometimes it pays, literally, to know how to fix items to flip!
Most of my DIY repair knowledge comes from necessity over the years. I found a flaw after I sold something or I desperately wanted to be able to fix something that needed a ton of work to be worth a ton of money… So through some good and realllllly bad trial and error, I have collected some amazing quick repairs and amazing DIY processes to turn items around for crazy amounts of cash!
Now obviously seeing is believing. It's just a lot easier to see it all laid out on video, step by step DIY for Resellers.
Luckily, Posh Pro Project HAS THAT! Our DIY for Resellers course goes through everything from quick repairs to get your item out the door to major leather fixes for purses, boots and shoes.
Have a pair of Gucci stilettos that has a big bite out of the heel? No problem! A little epoxy and shoe leather paint and we can fix that right up from worth nothing to worth $900 bucks! It can be done!
Wrinkles
One of the worst things the fashion industry has foisted upon the world is wrinkled clothes. I do not know why people adore linen so much, but they sure love the stuff. It requires ironing and re-ironing!
Steaming is always a better choice and we go through all the easy iron tricks of the trade. You can steam a sunhat from destroyed in a suitcase to perfection with a pot of boiling water! I learned that trick at the beach myself when the gorgeous sunhat I "borrowed" from my Poshmark closet sold and I had to de-sand and de-wrinkle it so I could collect a cool $85 bucks!
Sewing
You can also use heat to do quick sew jobs with one of my favorite tools of the trade, stitch witchery – quick fix a hem, or close a hole without ever threading a needle! The adhesive mesh material is a true DIYers godsend and I don't go anywhere without it. When I found out they make stitch witchery in colors other than white… well, let's just say my reaction was all any bystander would have needed to crown me a total craft nerd. I will take that crown good sir and proudly wear it!
Repairs
Some of the most impressive repairs have come after all the trial and error. I now know that you can fill holes with epoxy, let it harden overnight, and then paint right over that spot to perfectly match the rest of the shoe or purse. Epoxy works best for shoe soles, heels, and broken piping on purses. They repair figurines and other non-clothing-related items as well, but that's another blog on another day.
Cropping and Dyeing
My favorite thing to search for is fun graphic tees and vintage high-waisted jeans in the summer or big plain colored oversized hoodies in the winter… and cut them or dye them. It's such an easy fun DIY and it takes ugly old weird looking things and makes them super cool. Anything from the '90s is great. Draw a straight line just below the graphic on the tees with a ruler and chalk… measure 2.5" from the crotch on the jeans and then use the same ruler to draw a slightly angled (up) line on the jeans leg. Make sure your two angled lines match by folding your two pants legs together and making another chalk mark on the second leg where your first angled line ended on the first leg. Then connect the dots on the second leg.
You need really good fabric scissors. Then use a razor to scratch up a few spots. Put cardboard in between the two parts of the shirt or into the pockets of the pants so you don't make unintended holes. Then wash them! Voila! You'll see. It's so cute and so fun! The bleach and tie-dye is pretty easy and directions can be found all over the internet – I love to take little spots all over the sweatshirt and just twist them in a pinch. Rubber band those spots. I took an old bottle with a twist cap and filled it with bleach so I can just the right amount where I want it. Leave the bleach to set overnight, or the tie-dye and launder it as well. My cut shorts, tees, and dyed hoodies sell for a LOT more than I paid for them and it feels like I built them from scratch! "I MADE THAT!" lol.
Why DIY for Resellers in Fashion?
It sounds like a lot of work and is definitely more of a side hobby then what I do for a living. I am always wishing I could attack my repair bin… and usually don't. A total vacay for me is to take one weekend a month and just hang out in my room, watch a bunch of HGTV or BRAVO – and just DIY my weekend away. One weekend I watched all 206 episodes of Love it or List it while repairing 10 purses, 3 pairs of leather boots, a pair of Gucci stilettos, and stitch-witching my little heart out on a pile of issue pants.
Why you ask? Well, it's a great question. It's obviously not about the money. I mean, it's a little about the money. It is super satisfying when the item I toiled away on actually sells for a nice profit, sure! But it's way more satisfying knowing that I saved that beautiful thing from the landfill and now someone else is enjoying it anew! I love that feeling. It makes me all warm and fuzzy.
Call me a weirdo tree hugger if you like… but it's really just my small part. Small is a true understatement. I had a person yell at me at a goodwill one time. I had a huge pile of thrift in my cart. She said "are you a reseller? You are taking all the good stuff. I don't have any money and you are taking everything." The thing is. I'm not. Not nearly. Have you ever looked in the back of a thrift shop? It would break your heart. And at least those piles and piles to the ceiling of clothes escaped the dreaded landfill! So practice DIY for resellers often.
For now…
The volume of clothing Americans throw away each year has doubled in the last 20 years, from 7 million to 14 million tons. In 2021, 22 million tons of textile waste ended up in landfills, according to data from the Environmental Protection Agency.
So yes please, shop resale! Yes
PLEASE SELL resale and YES YES a thousand times YES please learn to DIY Resale!